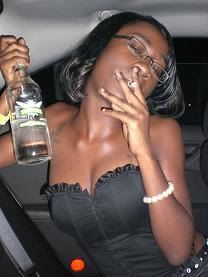 "Aye Slim, Lemme walk with you,"
I laugh because this nigga thinks it's cool to be addressing me from the other side of the street.
I guess he think's I'll walk over to him and give him some play.
Nah.I don't think so.
It's the stride of my hips, the MAC on my lips, the shine of my weave; i'm bossy.
Boss Bitch, That's me.
I walk into the Club, late as can be. No free before one line I paid my entry fee.
Switching my hips with nuff attitude, I ain't friendly; sorry if I seem rude.
It's the weed in the air, The Bouncing of my hair, the shimmer on my eyes that got you hypnotized.
I'm Bossy.
Boss bitch, that's me.

I know you may wonder where I get my confidence from or why I boast with pride; I tell them it's the independence that i crave, The need to be self made.
I'm bossy.
Boss bitch, that's me.

When the haters see me, they wonder why I'm alone. If I don't have a nigga and why Im always at home; I tell them,
Niggas Lie, Bitches ain't shit. if it ain't bout money, it's irrelevant. It's the Money in my Hand, The lack of a man, The weed that i smoke makes me wanna boast.
I'm bossy.
Boss bitch, that's me.

These Nigga's wanna know me, Make me wifey status. Take me to their mom's crib, do I look average? I tell them, it's the car i drove outside, the shades that cover my eyes, the diamonds in my ring doesn't allow me to be exposed to these things. I'm Bossy.
Boss Bitch that's me.
Now don't think i'm snobby or too pretentious, let's just say i'm real and i know your intentions. How about we keep it funky and I tell you what it is.. Im bossy like a mothafucka,
This is How I Live.