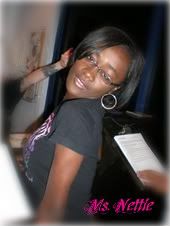 God is my savior.
Mommy; My Reason.
Daddy; The Donor.
Khori; The brightest Star.
Alysse; The pistol to my holster.
Gramma; My Crutch. My Seam.
Pop-Pop; The worlds Greatest.
Grandpa; Prisoner. Of. War
Auntie Anne; My Everything.
Uncle John; The last of a dying breed.
Uncle Richard; The wind beneath my wings.
Auntie Pam; The Bionnicle woman.
Auntie Pat; My source of Solace.
Paige; the eptiome of woman.
Vikki; My alter Ego.
Jordan; The key to my Heart.
Kobe; Prince Charming.
H.I.M; The Love of my Life.
Chantel; Miss independent, that's why i love her.
Anne C; Bah-dade-rah.
Safiyah; My favorite red Bitch.
JahKUSH; I'll do anything necessary for her; she'll never let the necessary occur.
LoriAnne; My Ace Boon Coon.
Candice; Mi madd, Badd fren.
Amanda; The best listener.
Neffy; GRAH!
Kiesha; Coogi Queen, Swagga on a hundred, Thousand, Trillion.
Natalie; the Real ting.
Brittany B; The wife.
Scott B; The Father i never wanted but needed.
Aja B; My Military brat.
Laurie B; The warmest Vanilla Sugar.
Nick McGowan; The cherry picker.